An Internet telephony service provider provides communications services using digital telecommunications medium such as VoIP to either residential users or commercial enterprises. Anyone having a general knowledge of ICT's can setup an IP Telephony Service Provider ( ITSP) business. There are three main components required to setup your own ITSP setup.
Hardware
Hardware infrastructure may consist of dedicated servers, failover servers, switches, routers, gateways also it includes sufficient symmetric internet bandwidth required for real time communications. The hardware infrastructure can be on rental basis from third party hardware provider or it will be owned by you, available at your premises.
Software
It consist of two main components ,first is main website with products listing, self services customer portal and e-commerce functionality. We call it marketing portal and second is a white label multi tenant service portal to offer hosted ICT services to customers and manage their billing separately. We call it service portal
Telecom Gateways
That includes VOIP/PSTN carriers for Voice & Fax communications,SMPP providers for SMS messaging and Email gateways for emails. The admin needs to register and configure multiple accounts with wholesale VoIp/SMPP providers for origination and termination services keeping into account quality of service like latency and jitter.
Software products
In this section, we will discuss multiple ICT's based software products that will enable you to offer a variety of business services to your customers and start your business as an ITSP. A complete Ip Telephony Service Provider solution will require 1) Provisioning portal it includes marketing of products and services, client management, billing, CRM and support services 2) communication service portal it provides user and admin web portals to use the communication services. Below we will discuss software products to be set up as communications service portals accordingly.
Following are our main ICT projects
ICTBroadcast Service Provider Edition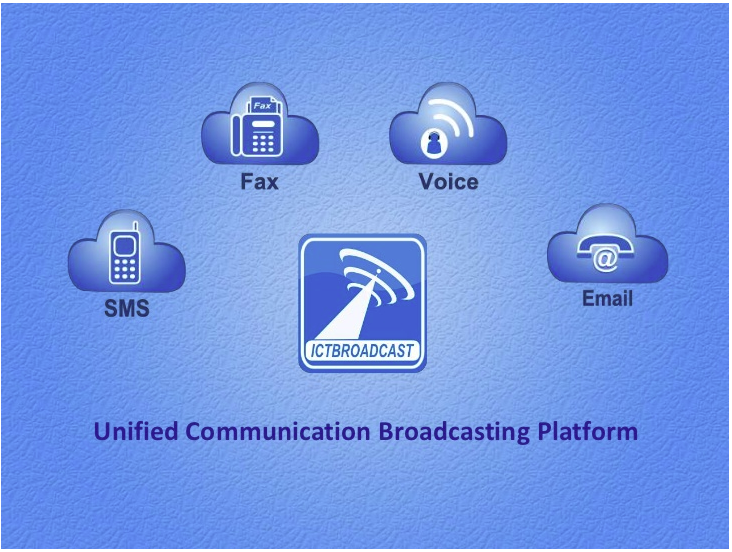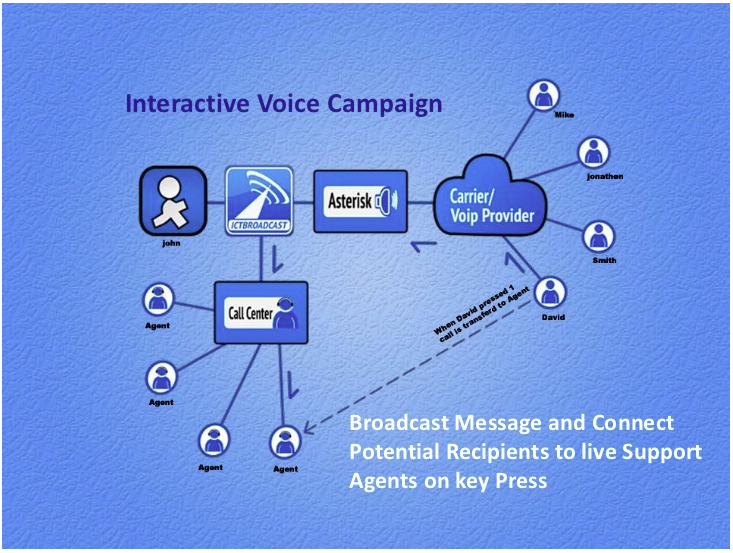 What services can be provided with ICTBroadcast Service Provider Edition ?
A Service Provider can offer a variety of communications and telemarketing services to its customers such as
1. Bulk automated Voice Communications supporting multiple scenarios

2. Bulk SMS Messaging

3. Fax blasting

4. Email communications

5. Inbound/Outbound Call Center

6. Unified communications Contact Center

7. CRM communications integration

8. Business communication automation

9. Voice based automated Surveys

10. IVR Studio to design custom IVRs

11. CTI and personalized communications

12. Auto, Predictive, progressive, preview, power and manual dialing

13. Rest API's to integrate CRM or any third party application

14. Voice based Appointment reminder

15. Auto provisioning of products/services

16. Interactive / press 1 campaign
ICTBroadcast main features
IVR Studio
ICTBroadcast is bundled with IVR Studio that empowers users to design custom campaigns as per their requirements with simple drag and drop tools, There is no limitations, users can create any numbers of levels, play IVR , ask call recipient for DTMF input, play another IVR and DTMF again or integrate the third-party system on particular action, .
Unified Communications
ICTBRoadcast features SMS Messaging, Voice communications, bulk Faxing as well as Email marketing , It is single platform to manage all campaigns same time , each users is capable to run multiple campaigns and monitor their real-time reporting also manage these campaigns in real-time such as increase or decrease number of concurrent channels of a particular time from interface directly .
Rest API's and Webhooks / Push call notifications
ICTBRoadcast offers REST APIs, as well as Webhooks/push call notifications, support to integrate it with any third-party applications. Webhooks / Push call notifications to enable ICTBroadcast, admin/user, to configure campaigns to post or send call-related events to remote systems / third party applications also called push call status/web hook notifications.
Voice Call Surveys and Polls campaign
ICTBroadcast also provides a survey campaign feature that enables you to run voice-based surveys asking call recipients multiple questions and then creating useful reports from the survey responses.
Appointment Reminder campaign
ICTBroadcast can be used as an automated appointment reminder software that can help to remind different events.
CNAM Support in ICTBroadcast
To implement LCR, some information is required from HLR for which ICTBroadcast has a module CNAM.CNAM query gets the information about that number through OCN, on the basis of that information route is selected.
outbound Call Center with Predictive dialer support
ICTBroadcast supports complete outbound Call Center functionality :
ICTBroadcast features WebRTC web panels for agents as well as integration with any CRM, It offers press 1 campaign / interactive campaign, IVR Studio also Personalized communications using custom tokens. An interactive campaign dialer dials outbound and plays IVR and if the customer shows interest by press desired key, the call will be forwarded to live agents, and customer particulars will be fetched from CRM before the agent and further communications will take place between agent and customer directly.
Inbound Call Center
ICTBroadcast can feature to create permanent inbound campaigns, these campaigns will listen to incoming calls on published DID numbers / Toll-free numbers and play custom IVRs to incoming calls also forward calls to live agents for further communications, in case caller press the desired key then said call will be forwarded to live agents for further support also with survey campaign, you can conduct inbound surveys too.
Subscription campaign to register customers automatically through voice broadcasting campaign
ICTBroadcast Subscription Campaign enables businesses to automatically invoke software registration process or other application with just one keypress from recipient/customers. With the help of a Subscription Campaign, another software or application can be integrated. It plays pre-recorded voice messages offering customer/recipients to press the required key and when the interested customer presses that specified key, ICTBroadcast invokes the registration process and calls API of other software/Application automatically.
How ICTBroadcast can help you in your ITSP business?
ICTBroadcast service provider (SP) edition has all the features of enterprise-grade software for its customers who want to become Internet Telephony Service Providers (ITSPs) and want to provide their own broadcasting services (such as voice, SMS, fax, and email) to their customers. ICTBroadcast is productive, scalable, fault-tolerant, and secure software and also comes with monitoring, integration, upgrading, and support services. Some other features that ICTBroadcast SP edition have to support your business are listed below:
Scalable and Redundant platform to offer services globally
ICTBroadcast can be scaled with ease to fulfill customer's need across multiple servers on different locations as well as ICTBroadcast does support full fail-over support, if one node fails, another node will take up its position automatically .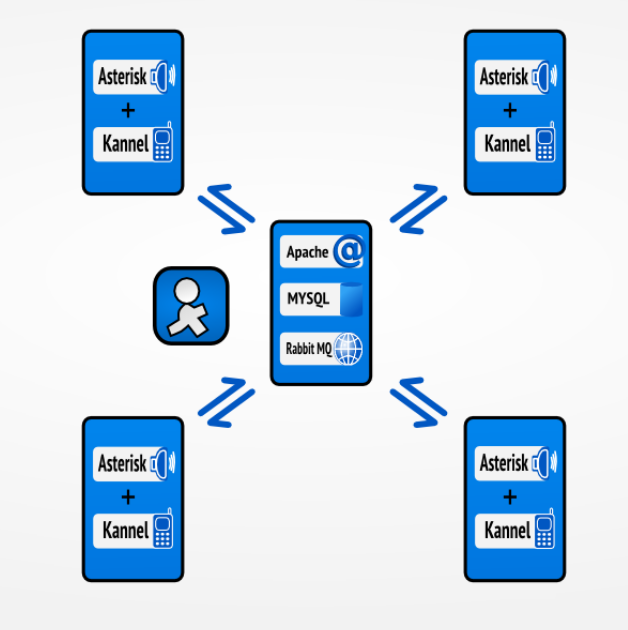 Multi-tenant and Multi-campaign
ICTBroadcast SP edition is a multi-tenant system that provides a separate web portal for users and administrators. Every user can create an unlimited number of campaigns running simultaneously.
System monitoring
ICTBroadcast SP edition provides all system monitoring features in one place (i.e. Dashboard) allowing Admin to monitor overall system resources, including nodes, users, channels, and campaigns statistics.
Resource Management
ICT Broadcast SP edition helps to manage rates, routes, payments, channels, users, and their permissions. Administrators can also manage system resources such as assigning or un-assigning extensions and DIDs to users.
Internationalization
ICTBroadcast SP edition is the multi-lingual system with built-in support of many of the most used languages on Internet as well as ICTBroadcast support multiple time zones, each user will have its own timezone settings .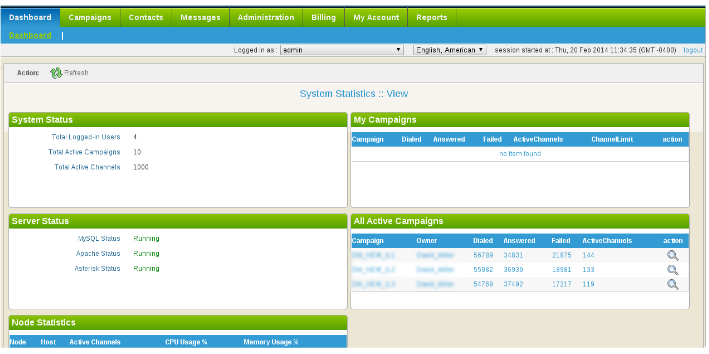 Third Party Integration
ICTBroadcast SP edition provides easy to use RESTful APIs to integrate with a third party software such as CRM.
Overall ICTBroadcast SP edition is a complete solution for anyone seeking to start their own business as an Internet Telephony Service Provider (ITSP).
we are also offering other business solutions to our valued customers, Most of these solutions are ready to offer however few are still under development.
Other Software products to setup ITSP business

ICTFax Service Provider Edition, provide Email to fax and Web to fax solution

It is multi-tenant business solution for Internet service providers with complete billing and e-commerce integration that enables them to offer complete fax solution including Email to Fax and Web to Fax.
Get a Quote for ICTFax Service Provider Edition


What services you can provide with ICTFax Service Provider Edition ?

1. Email to Fax

2. Fax to Email

3. Web to Fax

4. ATA Fax

5. Fax rest api's


ICTContact Service Provider Edition, offer cloud based inbound / outbound call centre solutions

It is multi-tenant business solution for Internet service providers with complete billing and e-commerce integration that enables them to offer inbound and outbound call center solutions to their customers
Get a Quote for ICTContact Service Provider Edition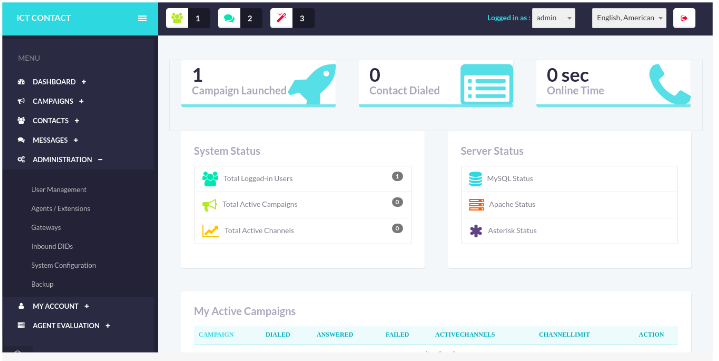 What services you can provide with ICTContact Service Provider Edition ?

1. Unified contact center supporting voice,sms and email

2. Outbound call center

3. Inbound call center

4. Crm cti integeration services

5. Progressive dialer for CRM

6. Communications api services

---

ICTCORE Service Provider Edition offers communications API
services

ICTCore is a unified communications platform for advanced users/developers to integrate their existing systems with a unified communications portal to add communications capabilities using drag and drop IVR Designer or through published APIs with ease never offered before.
ICT Innovations offers ICTCore SP Editon based on number of concurrent channels capacity.
Get a Quote for ICTCore Service Provider Edition

What services you can provide with ICTCore ?

1. Unified communications sms, voice, fax and email

2. Communications API's provisioning services to web
developers to add CTI features in their applications

ICTCRM Service Provider Edition, offer cloud
based CRM Solutions

It is multi-tenant business solution for Internet service providers with complete billing and e-commerce integration that enables service providers to offer cloud based CRM solutions to their business customers with complete integration of advance communications technologies . It can also be integrated with contact center to offer communication capabilities.
Get a Quote for ICTCRM Service Provider Edition

What services you can provide with ICTCRM Service Provider Edition ?

1. ICT integrated advance CRM as SaaS

2. CTI integeration services with CRM

3. Voice,SMS and Email integeration with CRM

---
Technical Details of Different
Packages of Service Provider Edition
Selecting a Wholesale Voip
Provider for your requirements






Related Links: