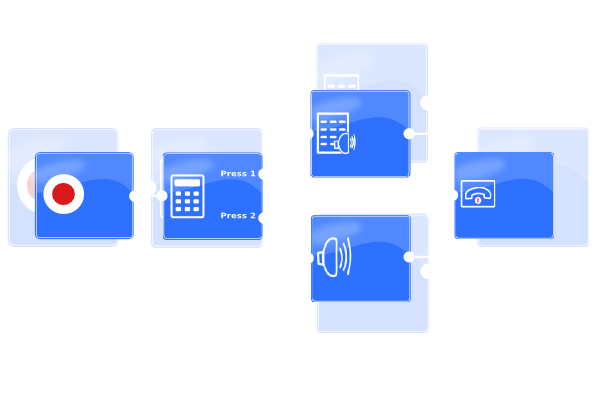 One of the most indispensable telemarketing services, the Press 1 Campaign suits all businesses that need to contact a target list. Press-1 Campaign also known as Interactive voice broadcasting. Simple to set up, and simple to run. Press-1 Campaign calls a contact number from the list, On recipient pick-up, the ICTBroadcast software plays a recorded message. If the contact then wishes to speak with a live Agent, he or she can press key "1" to progress the call.
If you're going for a voice broadcasting campaign you'll need to decide whether your message will be just an announcement or if you want to give your prospects the ability to press 1 on their phone to be connected with a live agent of your company. If you go for the second option then interactive broadcasting is what you need. This gives you instant results and allows you to speak to your prospect when they are most interested.
Inbound Support in Interactive Campaign
----------------------------------------------------
Inbound feature in this campaign is for starting Interactive Campaign on the inbound calls.
When customers call on DID numbers published by the firm, Auto Dialer Interactive or Press-1 Campaign plays a recorded message they can proceed through recorded messages but if they wish to speak with a live agent, they can press key "1" to progress the call.
Inbound Interactive Campaign proves to be beneficial in Call Centers particularly where there is too much load of calls or the number of Agents isn't enough. All the users can resolve their issues or register their complaints automatically. It will save their time, instead of making your customers wait for an agent in queues their queries can processed automatically with Inbound Interactive Campaign.
Watch Video tutorial to create Press-1 Campaign in ICTBroadcast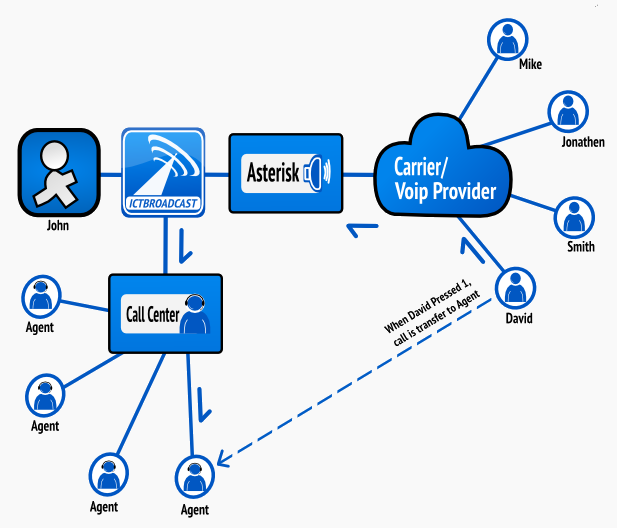 How to create Press 1 Campaign in ICTBroadcast
Following are simple steps to create Press 1 campaign in ICTBroadcast.
1. Open your browser and type URL of ICTBroadcast web location. Then login at ICTBroadcast, if not already done so.


2. Next you need to create extension. Go to "Administration" menu and then click "Agents / Extensions" to create extensions. Click New Extension, enter extension number and its secret and then click save. Your new extension is created.


3. Next you need to assign this extension to some user (or admin itself) in order to use it. Go to "Administration" and then click "User Management" and click "assign extension" against the user to whom you want to assign this newly created extension.
4. Use an IP phone (soft phone) of your choice to register with that extension.You can also use builtin webrtc based webphone , You'll provide the username (extension number), secret (password) and host name (domain / IP address) of the server where ICTBroadcast (or Asterisk) is installed.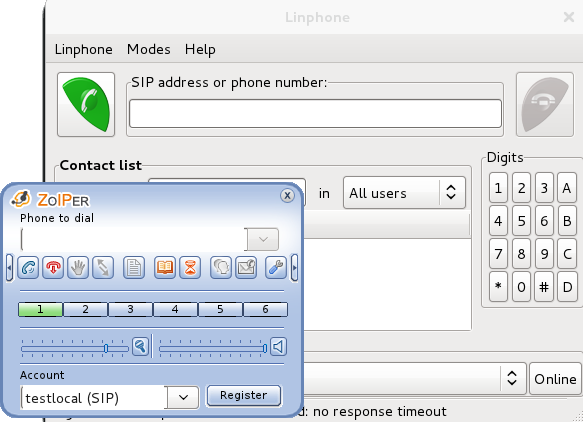 Using builtin webphone
--------------
User can even access integrated webphone by selecting the desired extension from top **Agent Panel** dropdown

Set agent status
ICTBroadcast provides an option to change the status of Agent as well.
You can set the status of the agent by clicking **status button**. You can set the status either **available or leave**
Note: Only **Available** agent can receive forwarded calls
### Call Transfer
Transfering a call is not an issue now as call can be transfered to the desired extension by clicking the **call transfer** button and then selecting desired **extension**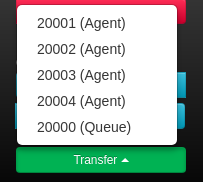 Load Contact
You can view and edit prospect details by clicking on **load contact**.
Please note that it is different from popup URL. Instead of popup it will redirect current window to ICTBroadcast's internal contact record where user can edit / update it accordingly.
Keypad / DTMF
Handy keys are provided to the agent for operating webphone.
A List of useable key sequences that agent can use for different purposes is given below:
* For hangup press *0
* For call transfer press #1 and then enter target extension number alternatively (without pressing any key) agent can select target number from transfer drowdown button
* For attended call transfer press #2 followed by the target extension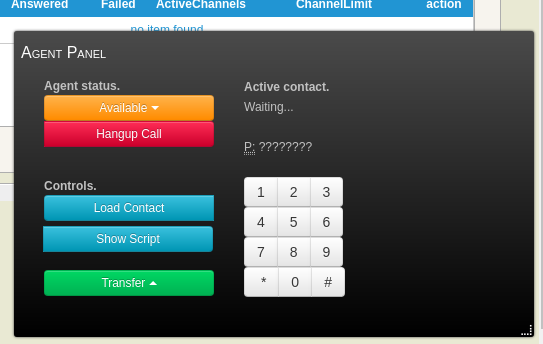 [Forward to Agent on Answer](/Forward-to-agent-on-answer-without-playing-IVR-OR-forward-to-agent-with-IVR-on-key-press)
Creating Personalized messages using custom tokens in SMS campaign
5. Create new interactive voice broadcasting campaign type