WELCOME TO
ICTBROADCAST
Unified Communications, Fax, SMS, EMail and Voice Broadcasting Software, Advance blended call center solution
ICTBroadcast is a multi-tenant, unified communications-based autodialer, predictive dialer, and power dialer software solution feature inbound IVR, IVR Studio, press 1 campaign, complete call center, AMD, HLR, DNC, survey, appointment, and WEBRTC also supporting Voice, SMS, Email and Fax broadcasting. Suitable for small business owners, entrepreneurs, and Service Providers. It enables service providers to offer a wide range of telemarketing and contact center-related services. It can be scaled to blast thousands of simultaneous calls and it fits most voice broadcasting and call center scenarios with effective and efficient communications management.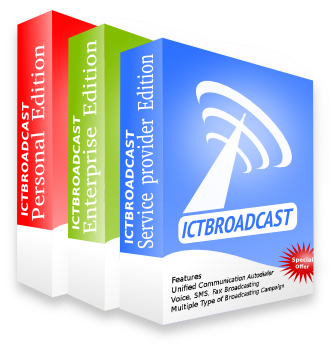 ICTBroadcast

Covers all Modes of Communications
OUTBOUND COMMUNICATION

ICTBroadcast unified autodialer originate calls toward remote destinations and perform required operations and actions accordingly

INBOUND COMMUNICATION

ICTBroadcast, the unified autodialer can be activated to support inbound calling mode too, with inbound mode enabled , all campaign can receive incoming calls on published DID numbers

DYNAMIC COMMUNICATION

ICTBroadcast offer Rest Api to integrate ICTBroadcast with third party applications to automate business processes
Top 3 reasons to select
ICTBroadcast
UNIFIED BROADCASTING

ICTBroadcast is a web-based unified communication autodialer and telemarketing software.

STABLE AND SCALABLE

ICTBroadcast's journey of professionalism, stability and excellence has some remarkable achievements.

INNOVATIVE FEATURES

Advance Communication technologies | Unified Auto dialer features | Voice Broadcasting Software features
Creating
Powerfull

Customer Connections
15+
Years of Experience in Telecom Industry
Online Demo
Buy Now
I can't really have current achievement without ICTBroadcast products and their dedicated support. From the beginning of running our fax business, Tahir and his team have advised very helpful proposals and suggestions. they are a pleasure to work with. It's been 2 years working with Tahir's team and they have gained our trust. We will continue to work with this team and will expand our business based on their various of professional products. Hope 2014 is the year for both of the US to achieve the next goal.
---
Kevin Zhou
faxbb.com
Mississauga, Canada
Back in 2012 at PdPtech we were looking for a reliable and robust broadcasting system. We checked with various suppliers but none of them had the flexibility found in the ICTBroadcast system. That's why we choose ICTInnovations as the partner to rely on. It's more than two years now since the first installation of their broadcasting system and so far we can only say that we are very pleased. Excellent support for an excellent product. We had a good boost to our business offering broadcasting services to our customers. People behind ICTBroadcast are skilled and collaborative, a software and a company that anyone who is interested in broadcasting or unified messages should rely on.
---
Pietro Di Pietro
Pdptech
Florence, Italy
I'm very impressed with ICTInnovations. They're professional, reliable, intuitive, and have a great work ethic. They've worked on a variety of projects for my company and they've always delivered a quality product. Never miss a deadline, whatever the request, Tahir and his team have consistently been up to the task, and what's more, they are a pleasure to work with. Trust is top of our list when it comes to us deciding who to work with on projects and trust is certainly something we have in abundance when using Tahir and his team. ICTBroadcast is working extremely well for us and we are very excited to take it to the next level throughout 2014. Thank you ICTVision for a very competitive and reliable product.
---
Kevin
http://getalerted.co.uk
Birmingham, United Kingdom
Latest
News & Blogs
Happy New Year. May the New Year bring you warmth of love, and a light to guide your path towards a positive destination.
On the eve of the new year , We are pleased to announce the release of ICTBroadcast version Version 4.0
---
Read More