Inbound survey campaigns, campaigns start and keep running in listening mode whenever a customer calls, survey campaign gets activated itself and start playing the pre-configured recordings/questions and saves the customer responses accordingly and prepare reports for administration. Inbound feature of survey campaign is helpful in many scenarios, especially it is suitable in countries where there are restrictions in outbound auto-dialing also it saves logs of financial and human resources. Customers are always attracted to the campaigns that give priority to their customers. Inbound surveys show that customers are given value and their feedback matters.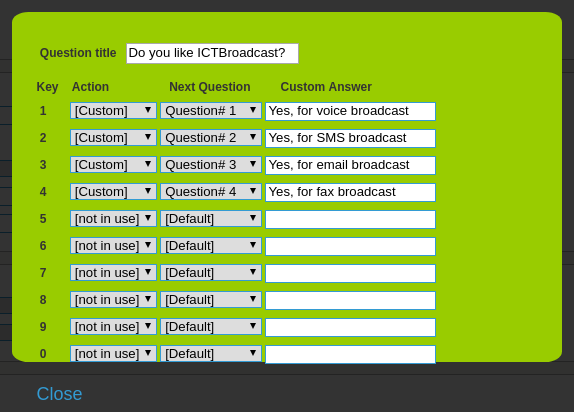 To create survey questions
Select a required number of questions under the survey section. For each question select related question recording.
Click on the (answer type) drop-down, it will show DMTF repose or Voice response.
Select DTMF response, it will show a link option. If the user chooses voice response, it will show a dropdown to choose the time seconds to allow the recipient to record his response. No further action is required for this question type.
Click on options, a pop-up window to set answers to this question.
Set question title that will be useful for viewing reports of survey campaign.
There is a maximum of 7 possible answers to a question. Action is the default answer for the corresponding keys like(Yes, No, Not Sure).
To set a custom answer, select custom from the action drop-down as shown below: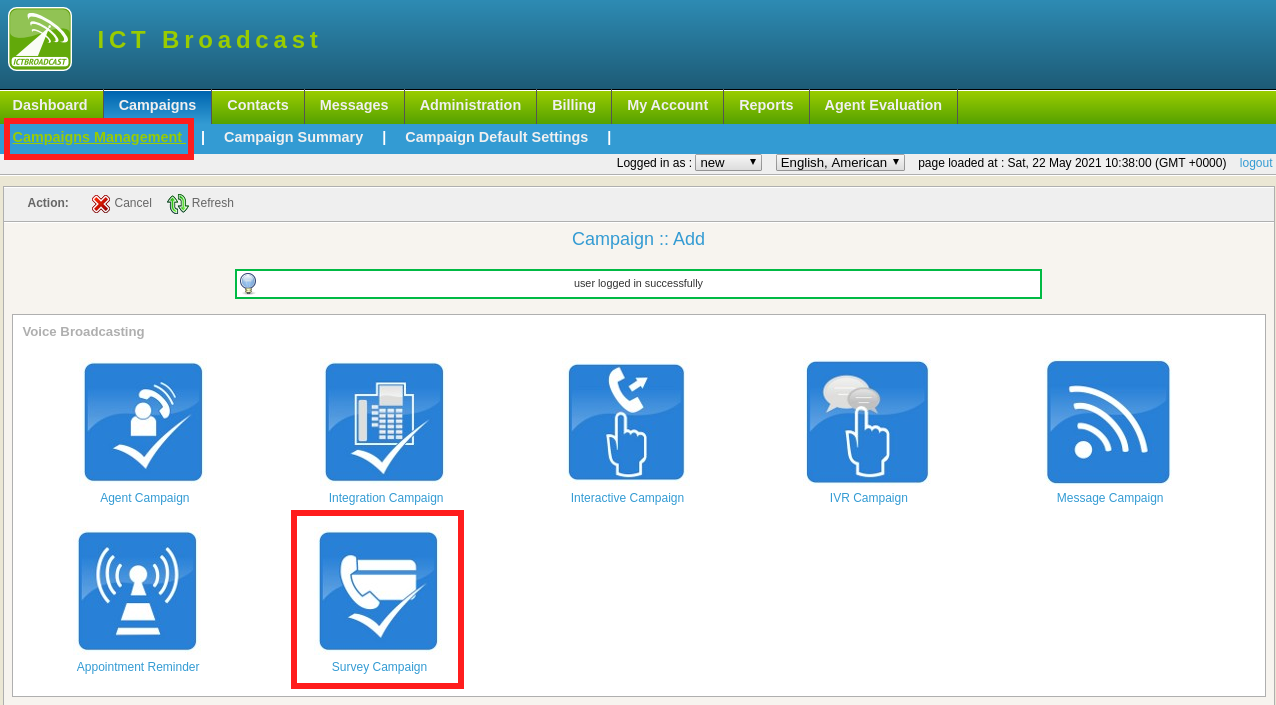 Configure Survey Campaign by Following Steps
Click on the campaign's main menu, then click on the campaigns management sub-menu. Click on the Survey Campaign, it will open a form that lists all the options and settings for creating this survey.
The general parameters that need to fill out for this campaign are:
Campaign Name
Campaign Contact
Caller ID
Message Recording
General Options
Survey Questions
Survey End Message
Max Concurrent Channels
Max Call Duration in Seconds
Campaign Schedule
Click on the Save button on top of start the campaign.
Read the user guide for more details: