You're wasting precious time, money, and effort if your agents are still manually dialing numbers from a list. Nowadays, the power of a predictive caller relies on customer service call centers, debt collection teams, sales teams, market research firms, and telemarketing centers.
To detect a communication, a predictive dialer automatically calls telephone numbers and passes them on to an agent. Predicated on busy signals, voicemails, no-answers, disconnected numbers, and even more, predictive dialers scan telephone numbers. To forecast when the human agent will be reachable for the next call by using call statistics.
History of Predictive Dialer
Predictive dialers were raised when in an economic downturn in the mid-80s that saw a debt spike and a rapidly expanding debt collection industry. Companies, such as major banks, finance companies, and collection agencies, have extended call centers for credit cards, auto loans, student loans, and other forms of debt to respond to the arrears crisis. These businesses were searching for innovation that could optimize the productivity of payment agreements with debtors arranging agents on the phones.
Around the same time, telemarketing service providers were scouring for the same type of system in order to increase the productivity of telemarketers who were calling by telephone to sell products and services.
The issue they have been seeking to resolve was that they would get up in the morning and go to work until the evening for their target audience. Agents were calling for a large portion of the day, and no one responded. Agents were immensely unproductive, usually only averaging three or four contacts per hour per agent.
In the 1980s, industries such as Davox, Mosaix, and Melita formed a handful of first-generation hardware-based predictive dialer businesses to recognize the necessity. Then, a new generation of soft dialers was born in the mid-90s, which ignored their own dialing hardware for software linked to existing telephony systems, a design preferred by managers of telecoms & IT.
How Predictive Dialer Works
An automated phone dialing method is a predictive dialer. It allows agents of the call center to dramatically expand their number of live connectivity. Predictive dialers simply engage agents in calls that are actually answered by real persons. This elimination and removal of unanswered calls, disconnected lines, fax machines, busy signals, or other automatic devices are called predictive dialing done by a predictive dialer.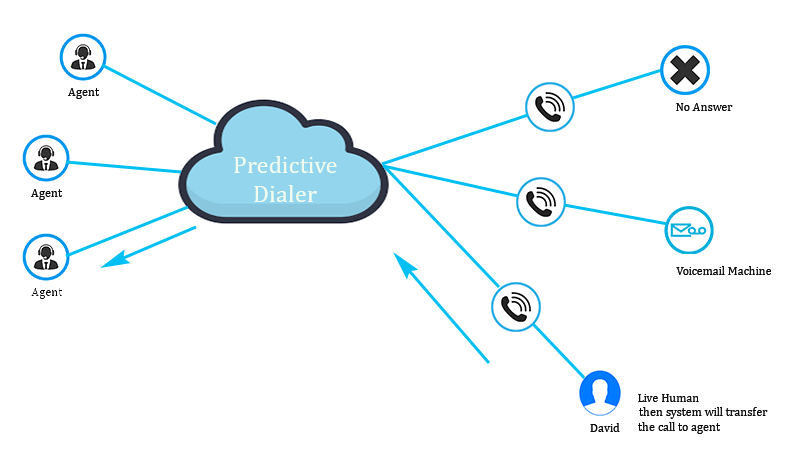 In order to predict both the average call response time and the availability of agents, predictive dialers use mathematical formulas and algorithms and then adapt the dialing rate accordingly. An efficient predictive dialer will also examine unsuccessful calls and determine if a call back is necessary for that number.
What are the Predictive Dialer Responsibility and Basic Work?
An advance predictive dialer software facilitate the sales process while powering up your agent's productivity by utilizing the following features
Contact/list management software that determines which numbers to call and when
Admin software to manage agents
Estimating the number of agents that are free
Prototyping the possibility of reaching a real consumer
Communicating a live caller to the agent
Based on these results, evaluating and rebuilding the connection method, providing an even smarter target audience to speak to
Who Uses Predictive Dialers?
In telemarketing, market analysis, debt management, and customer support follow-up, predictive dialers are regularly used. In addition, during outbound sales prospecting, some excellent option agents use predictive dialers to maximize the amount of time they can spend on the phone with leads.
Because predictive dialers concentrate as much as possible on putting agents on the phone, they may not be efficient for organizations selling high-value products or those who want to create an amazing customer experience, as they do not leave any time between dials for research.
Increase Productivity with Predictive Dialers
Published studies on the efficiency of predictive dialers are available. Predictive dialers have been shown to deliver significant outcomes when phone use is a main priority. One study showed that predictive dialers can boost the productivity of agents by 200 to 300%.
Related Content:
How ICTBroadcast Predictive dialer works, technical design details