You can schedule campaigns and can set a campaign to start and stop on a particular date, or time, as well as setting days of the week. Campaigns will automatically start and stop on the specified day and time. Learn more about ICTBroadcast
Scheduling allows users to control their campaigns and makes sure that a higher percentage of his/her customers respond to the automated calls. This also ensures that the auto-dialer does not disturb customers by calling them at night while sleeping or during office hours. ICTBroadcast also takes care of the timezone settings and makes schedules according to users' timezone settings. Following is a brief description of campaign scheduling options: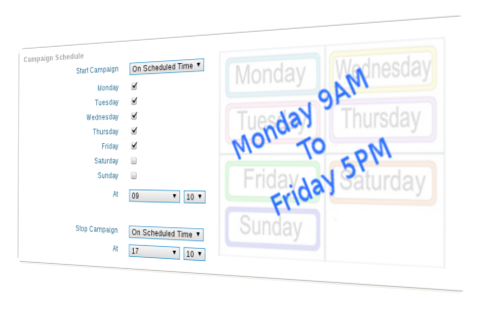 Start campaign: Schedule campaign start it has following options
a) Immediately: Start campaign immediately just after creation
b) On Scheduled Time: Start campaign on selected data and time
Stop/Pause campaign: Schedule campaign stop time it has the following options
a) When Done: Stop campaign when everything is completed
b) On Scheduled Time: Stop campaign on selected data and time
Date Scheduling
IctBroadcast lets you schedule your campaigns in 2 ways:
You can create a schedule and the campaign will run according to that time every day you may call it Weekly Schedule
You don't want your campaign to run every day then you can choose a specific date, day, and time for the campaign to run
Date Scheduling Support is added in all the campaigns offered by ICTBroadcast.
Destination based Timezone scheduling