Bid farewell to manual dialing and usher in a new era of efficiency in your VoIP communication through the utilization of ICTBroadcast Auto Dialer Software. Trim down your time investment while elevating productivity, thanks to its sophisticated features and automation proficiencies. Embark on an unprecedented journey of streamlined VoIP communication.
Unleash the potential held within ICTBroadcast Auto Dialer Software to elevate your outreach endeavors, fine-tune your strategies, and drive your business toward unprecedented progress. Witness a transformation in your VoIP communication efforts, leaving behind unproductive moments. Allow ICTBroadcast Auto Dialer Software to bestow upon you a more potent and effective method of establishing connections with your contacts.
Voip Communication:
In the contemporary global business arena, the establishment of a resilient and trustworthy Voice over Internet Protocol (VoIP) communication system stands as a pivotal factor in facilitating effective interactions with clients and customers. With companies increasingly striving for international expansion, the importance of a dependable VoIP solution cannot be emphasized enough. Within this context, ICTBroadcast Auto Dialer Software emerges as a potent tool, endowing enterprises with the capability to automate their VoIP communication processes. This, in turn, empowers them to seamlessly connect with expansive audiences while simultaneously curbing expenditure.
The emergence of VoIP communication has catalyzed a transformative shift in the manner in which businesses engage with their customer base. By harnessing the potential of internet-based voice data transmission, organizations can now establish direct lines of communication across global frontiers, all without bearing the financial encumbrances inherent in conventional telephony. This groundbreaking approach not only furnishes businesses with enhanced agility and scalability but also equips them to propel their operational boundaries and surge ahead of competitors within the dynamically evolving market landscape.
Benefits of VoIP Communication:
Cost saving:
One of the foremost vital benefits of VoIP communication is the taken a toll savings it offers businesses. Traditional phone communication can be exorbitant, particularly when communicating with clients and clients abroad. VoIP communication kills the require for costly hardware and long-distance charges, making it a cost-effective arrangement for businesses looking to grow their operations.
Flexibility and Scalability:
VoIP communication offers businesses the adaptability and scalability required to expand their operations. With VoIP communication, businesses can include new clients and lines without incurring extra costs. This makes it easy for businesses to extend their operations as they grow, without worrying around the cost of communication.
Quality of service:
VoIP communication offers businesses high-quality voice communication. With the use of high-speed web, businesses can appreciate clear voice communication with their clients and customers. This improves the by and large customer experience and helps businesses construct a positive brand image.
Accessibility:
VoIP communication offers businesses availability to their clients and clients worldwide. With VoIP communication, businesses can reach out to their clients and clients from anyplace within the world, employing a computer or a smartphone. This makes it simple for businesses to stay connected with their clients and customers, in any case of their location.
ICTBroadcast auto dialer software could be a powerful VoIP auto dialer software arrangement that enables businesses to automate their calling prepare and increase their efficiency. ICTBroadcast auto dialer software is designed to work with VoIP technology, making it an perfect arrangement for businesses that rely on VoIP communication. ICTBroadcast auto dialer software can make thousands of calls per day, which can save businesses a significant sum of time and cash.

ICTBroadcast auto dialer software has many features that can help businesses achieve their communication goals. Some of these features include:
1.

Multiple Modes of Dialing:
ICTBroadcast gives multiple modes of dialing, including prescient dialing, preview dialing, and progressive dialing. This allows businesses to select the dialing mode that works best for their needs.
2.

Interactive Voice Response (IVR):
ICTBroadcast has a built-in IVR system that can handle incoming calls and direct them to the suitable department or agent. IVR can too give callers with data about the trade, such as business hours, area, and services.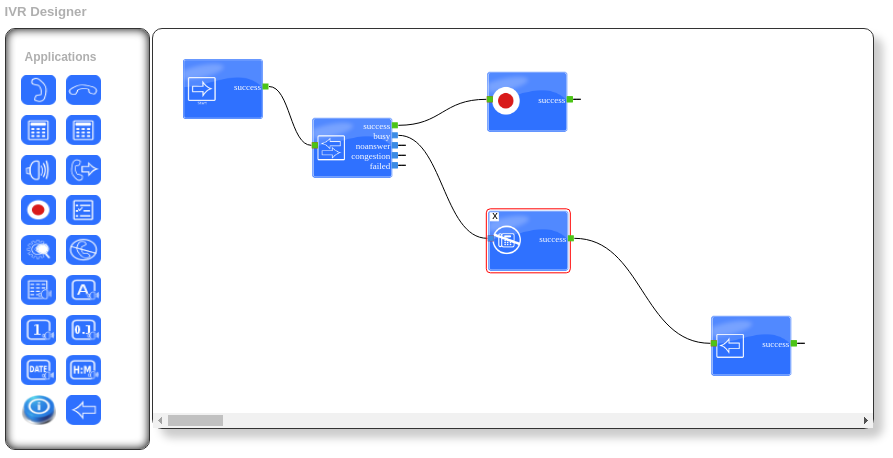 3.

Call Recording:
ICTBroadcast can record all phone calls, which can be used for quality assurance, preparing, and compliance purposes. Call recording can moreover help businesses resolve disputes and protect themselves from risk.
4.

Call Transfer:
ICTBroadcast can transfer calls to the fitting agent or department, ensuring that callers get the help they require quickly and efficiently.
5.

Real-Time Reporting and Analytics:
ICTBroadcast provides businesses with real-time reports and analytics, such as call volume, call duration, and call success rate. This data can offer assistance businesses optimize their calling process and move forward their overall performance.
6.

Integration with CRM and Other Systems:
ICTBroadcast can integrate with CRM frameworks and other software arrangements, such as Salesforce, SugarCRM, and Zoho CRM. This integration permits businesses to streamline their workflows and increment efficiency.
7.

Multi-Tenant Support:
ICTBroadcast supports different tenants, allowing businesses to make separate accounts for different departments or clients. This can offer assistance businesses manage their calling prepare more effectively and efficiently.
8.

Web-Based Interface:
ICTBroadcast has a user-friendly web-based interface that can be accessed from anywhere with a web connection. This allows businesses to oversee their calling process remotely and makes it simple for agents to work from home or on-the-go.
Overall, ICTBroadcast has numerous stunning features that can offer assistance businesses streamline their calling process, increment efficiency, and improve overall performance.
Conclusion:
In conclusion, VoIP communication has become an basic tool for businesses to remain connected with their clients and customers. In any case, managing and handling these communications can be time-consuming and repetitive, especially for businesses that deal with a expansive volume of calls on a every day basis. This is where ICTBroadcast comes in as a capable solution that can empower businesses to mechanize their calling process and increase productivity.
Leveraging Open Source in ICT