ICTBroadcast also supports inbound campaigns that allow inward calling to a supplied DID number. Whenever there is an incoming call received, ICTBroadcast plays an IVR or recorded message (optionally), and on keypress, ICTBroadcast forwards interested callers to Live Agents for further support. Learn more about ICTBroadcast
ICTBroadcast's Inbound Campaign is a pioneering innovation in automated telemarketing. Inbound Campaign is one of the best marketing practices because it brings genuine leads rather than reaching outbound to cold and questionable targets. The inbound campaign ensures high conversion levels at minimal cost, it does, however, take example commitment and patience to get you the desired results. An outbound campaign like Interactive / Press 1 Campaign largely focuses on outbound methods such as cold calls. The idea behind these techniques was to get in front of cold leads and warm them up to the point where they would try your product or service.
Smart Inbound Call Center
ICTBroadcast features both advanced inbound call center as well as complete outbound call center  functionality , ICTBroadcast inbound call center support multiple users environment with each user supporting multiple inbound campaigns with different queues and agents configured with each campaign. Users have to configure DID numbers to receive incoming calls as well as setup IVR voice messages to interact with callers / customers also desired calls can be directly forwarded to queue / agents without presenting callers to IVR message. ICTBroadcast features  Inbound survey campaign too to conduct voice based survey and present graphical reports to user about survey.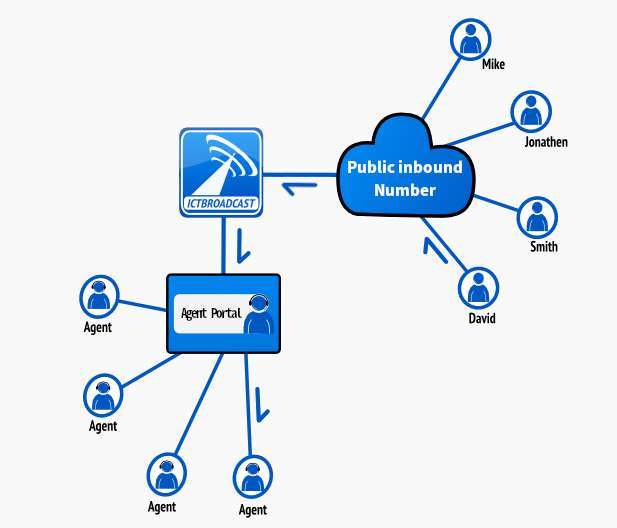 On keypress, ICTBroadcast transfers the incoming calls to agents for further support. Agents can view information about incoming caller ID, call duration. Comprehensive campaign statistics are provided at the end of every campaign, with caller info, call duration, and agent data. Also any CRM can be integrated for better business automation using ICTBroadcast REST APIs or CRM APIs . ICTBroadcast inbound call center functionality also empowers users to conduct voice-based surveys accordingly. ICTBroadcast Integration with rest based api
Traditional IVR voice messages can be recorded and uploaded as voice files or it can be created through state of the art IVR Designer bundled with the ICTBroadcast package using simple drag and drop tools. IVR Studio / designer support creation of custom IVR without limitation of numbers of levels also it supports personalization of voice communications using TTS and Tokens . ICTBroadcast IVR Studio
ICTBroadcast also features Dialog flow integration and it empowers users to present advanced voice interactive bots using ASR (automatic speech recognition ) and Dialog Flow that will be an edge in competing markets that are using traditional IVR.ICTBroadcast Integration With Google Dialogflow
WebRTC Configuration of ICTBroadcast